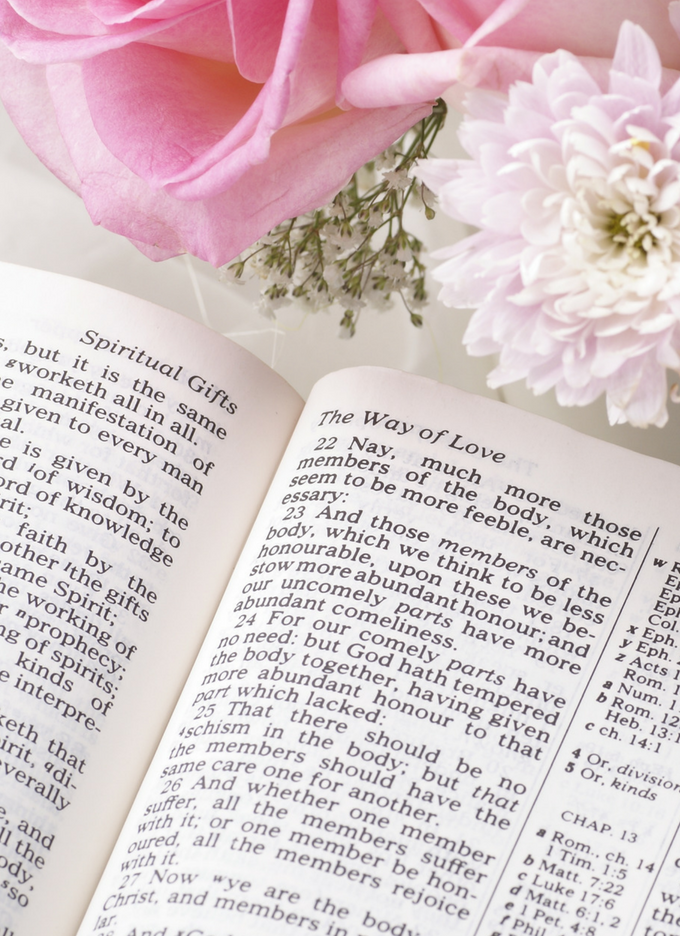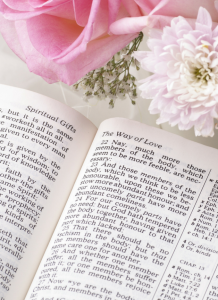 Rock Painting Scripture Quotes will give you the best Bible verses to paint your rocks with inspiration. Spreading inspiring messages through painting stones is the perfect way to create a positive impact on the world.
"Within the covers of the Bible are the answers for all the problems men face." – Ronald Reagan
You never know how much finding that special rock can affect someone else. A few years ago, a woman was purchasing flowers for her daughter's grave and found a painted rock that said: "Have faith."  That rock gave her the will to go on, in spite of experiencing such a tragedy.
Make sure you join our Facebook group Rock Painting Ideas and Resources. It has over 23,000 rock painting enthusiasts just like you sharing ideas on what to paint and the best ideas out there. It offers daily inspiration, tips, and techniques. Plus, you wouldn't want to miss out on all the fun! You can join this group here.
Pin this post so you can refer back to it again and again. I provided a pinnable image at the end.
Here are the best Rock Painting Scripture Quotes to use:
"For whoever calls on the name of the Lord shall be saved." – Romans 10:13
"Above all else, guard your heart, for everything you do flows from it." – Proverbs 4:23
"Let us not love with words or speech but with actions and in truth." – 1 John 3:18
"I loved you at your darkest." – Romans 5:8
"HE is my rock." – Psalm 62:6
"When my heart is overwhelmed, lead me to the rock that is higher than I." – Psalms 61:2
"God is love." – 1 John 4:16
"Have patience; God isn't finished yet." – Philippians 1:6
"Kind words are like honey-sweet to the soul and healthy for the body." – Proverbs 16:24
"You are the light of the world. A city that is set on a hill cannot be hidden." – Matthew 5:14
"Whenever I am afraid, I will trust in You." – Psalm 56:3
The joy of the Lord is your strength… – Nehemiah 8:10
"Your word is a lamp to my feet and a light to my path." – Psalm 119:105
"The Lord bless you and keep you." – Numbers 6:24
"I can do all things through Christ who strengthens me." – Philippians 4:13
"Perhaps this is the moment for which you have been created." – Esther 4:14
"We love because he first loved us." – 1 John 4:19
"Draw near to God, and He will draw near to you." – James 4:8
"Be on your guard; stand firm in the faith; be courageous; be strong. Do everything in love." – 1 Corinthians 16:13-14
"For they who wait for the Lord shall renew their strength, they shall mount up with wings like eagles." – Isaiah 40:31
"The name of the LORD is a strong tower; the righteous run to it and are safe." – Proverbs 18:10
"If you believe, you will get anything you ask for in prayer." –
Matthew 21:22
"Pray without ceasing." – I Thessalonians 5:17
"But godliness with contentment is great gain." – I Timothy 6:6
"Whenever I am afraid, I will trust in you." – Psalm 56:3
"Set your mind on things above, not on things on the earth." – Proverbs 27:17
"I can do all things through Christ who strengthens me." – Phil. 4:13
"God will carry you through the storm." – Isaiah 43:2
"I am with you and will watch over you wherever you go." – Genesis 28:15
"Jesus looked at them and said, with men, it is impossible, but not with God; for with God all things are possible." – Mark 10:27
"The pain that you've been feeling can't compare to the joy that's coming." – Romans 8:18
"Pray more, worry less." – Matthew 6:34
"Whenever you feel unloved, unimportant or insecure, remember to whom you belong." – Ephesians 2:19-22
"Trust in the Lord with all your heart." – Proverbs 3:5-6
"I am with you always." – Matthew 28:20
"I am the way, the truth, and the life." – John 14:6
"Don't be overcome by evil, but overcome evil with good." – Romans 12:21
"Every good and perfect gift is from above." – James 1:17
"The Lord is greater than the giants you face." – 1 John
"He makes beauty out of ashes." – Isaiah 61:3
"Let tomorrow worry about itself." – Matthew 6:34
"Let all that you do be done in love." – 1 Corinthians 16:14
"Faith can move mountains." – Matthew 17:20
"God promises to make something good out of the storms that bring devastation to your life." – Romans 8:28
"For I know the plans I have for you, plans to prosper you and not to harm you, plans to give you hope and a future." – Jeremiah 29:11
Here's a gorgeous rock painting book to take a look at: Scripture Rocks by Terese Cato
We've reached the end of the best Rock Painting Scripture Quotes. I hope you enjoyed it.
Let me know if you have a favorite Bible verse you like to use in the comments below.
Be sure to sign up to receive our weekly newsletter. You'll receive the best rock painting tips, ideas, and resources. Plus, everyone that is a subscriber will be entered to win the monthly drawing for an amazing rock painted by an artist for free! This bonus is only for subscribers.
Thanks for stopping by!
Rock on!
Kelly
Related Posts:
Rock Painting: A Beginner's Guide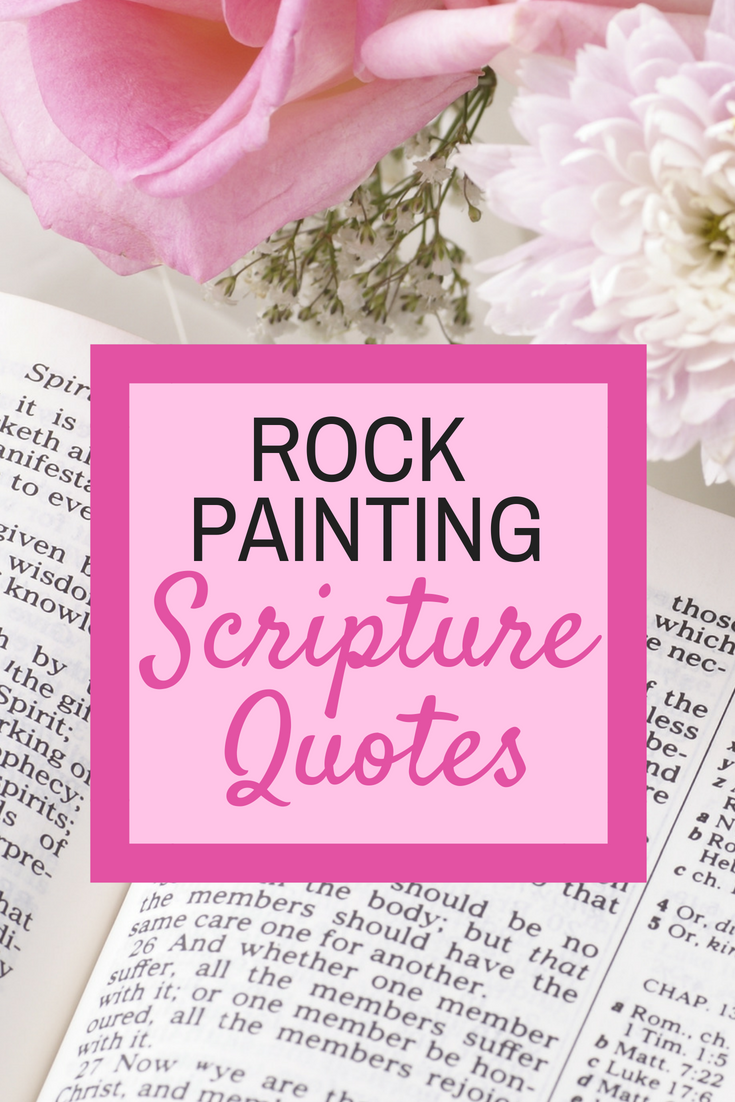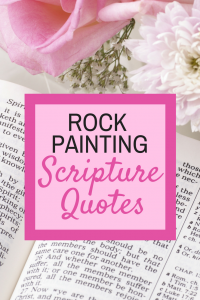 SaveSave